Just got home from Cosmo Prof (ok, not just.. I came home and helped with gardening first) but I got 11 new polishes and some nail art pens.. and extras. I will snap a few photos later. I have too many colours to choose from now! YAY!!
*Edit*
Here are the photos of the new new kids!
The OPIs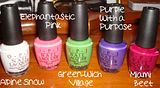 The CGs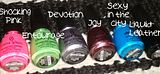 And a quick snap of 'Golden Opportunity' - I really liked the colour at first, then the next day it looked more mustardy. I will give it another try some day..