Ok, so first.. I will post a pic of my latest nail creation. It actually wasn't thought up by me rather than by this gal on youtube (she has awesome videos!) You can check out the inspiration by clicking on this link:
http://www.youtube.com/watch?v=tfdERmAX7Q4&feature=channel_page
Annnnd here is a pic: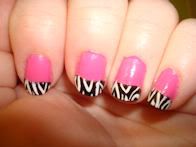 I need to find a new way to pose my hands – very unflattering! Haha.
Theeeen, this morning I woke up to a package waiting for moi! It was my order from Trans Design, Inc. I was quite happy with how fast it got here!! My only mistake in this order was OPI A Grape Fit! I already had the mini size and wanted to get a full size. Of course I ordered the mini size. Oh well, I am going to the beauty supplier on Friday and can get all the OPI greatness that I want.

Anyways, the order included:
OPI A Grape Fit
CG Custom Kicks
CG B-Girlz
CG Breakin'
CG Adore
CG Pink Voltage
CG Golden Opportunity
CG OMG
Orly Glitz
Orly Mini-Tiki Time 4-pack (which includes Teeny Bikini, Calypso Breeze, Sol Cabana & Mint Mojito)
I have read some good things about Orly, so hopefully I will like it as well. I quite enjoyed ordering from Trans Design - will have to do so again soon!!

I will have to snap a photo or two once the battery for the camera is done charging. Time to play with some nail polish!!