By Smith. It is from the 'Death Proof' soundtrack.. I swear Quentin Tarantino either has the greatest music selector ever or he himself is beyond amazing. I LOVE pretty much all the soundtracks to his movies. /endfangirlrant.
Sooo yesterday was a lazy day. Technically it is my 'weekend' right now. Finally around 5pm after getting out of a reading coma, I decided that I have given my nails a lengthly rest period and wanted to paint them again. Yesterday it was all gloomy annnnd I went with a darker polish look..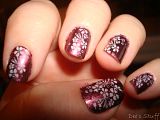 It is CG Joy, which is an amazing colour all on its own, but then I decided to bust out one of the two konad plates I have.. I think this was more of a test then anything else.. I didn't know whether I wanted the flower more so on the side or filling the nail - too many decisions!!
Ahh well, I might just end up changing things tonight. It is sunny and will be sunny for the rest of the week/end!!
Then I was playing with settings on my camera (I have had it over a year, you'd think we would be well bonded.. Well, we're not!) And came up with this.. The only one that I enjoyed on this photo anyways..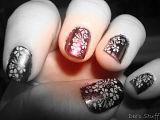 Whelp, I think that is about it. Maybe I will head outside and read for a bit.. What I really want to do it dive into bed and read, but I know I will fall asleep! What a blah feeling - hope everyone else is having a swell day!