The Chronicles of Narnia rap by Andy Samberg and Chris Parnell. Seriously, it is hilarious AND amazing!
Anywho, just a quick update before I scuttle off to work (bleh - but it is my last shift for a little while!)
I decided that I wasn't too happy with my last look, so pretty much after posting about it, I removed the polish and did this look instead..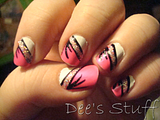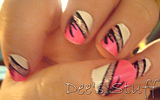 The second picture obviously sucks, BUT! The reason I tossed it in there is because that shows *almost* the correct shade of pink. It is bright, not quite the neon CG, but I cannot remember the colour name right now.. The white is OPI Alpine Snow, the black is from the silkline nail art pen, same with the silver glitter.
Well, I better run! Take care!!