Sorrrry I have not updated in a while. Work really kicked my butt the last five days and I have been exhausted and working in the dish pit (by choice) so no nail polish. BUT! I do have a photo to share of the last look I had done before the dishwashing shifts started: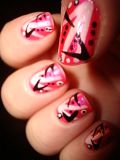 I actually really like how I took this photo as well.. Now to just figure out how I did it and always recreate it. Heh. (Click on the photo for a larger image).

I also came across this website that has mini-tutorials on nail designs. I actually stumbled upon it because I was looking for ideas for this contest. I did a design, but now looking at the photos, not too sure if I am happy with it. My sister said it looked great, but I don't know. I wish some other people would enter already so I could gauge what I am up against (everyone probably has the same idea) - or maybe I can post mine and then change it later? I dunno.. So on the fence right now!!

Anywho, time to catch up on some blog reading. Take care!