I think I have decided that my 'titles' can be whatever tune I am listening to while posting. Who doesn't love the 80s? And Men At Work for that matter. ANYWAYS!
I haven't been painting my nails toooo much lately.. Mostly because the shifts I have been taking at work have been as the dishwasher (do not get me wrong, loooove it!) after tomorrow evening I will probably "treat" myself by designing them to be nice again. I have managing shifts for the next week and a half? SOLID!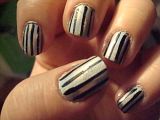 This was a cover up.. I tried to do this one design, but the colours didn't contrast enough.. So I covered the steely-purple colour with 'OMG' and added some black stripes. Nothing fun or exciting, just something to make it through a shift.. that turned into dishwashing anyways. Meh!
Oh, and this make-up forums I belong to is having a nail competition with the theme being 'Secret Garden', so this is my entry..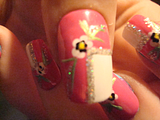 It would be nice to win. We shall see though.. Whelp, that is about it. I should probably go pass out.. I am exhausted and still have three days of work left. Bleh!!