By Aimee Allen. A cute song off of the 'Hairspray' soundtrack.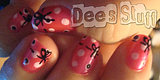 Click To Enlarge
I used CG B-Girlz, OPI Alpine Snow & CG Liquid Leather. Also, my trusty bobby pin!!
After I took off the little 'Frenchy Bow' polish, I wanted bows on my fingers again.. But different.. So 'Stitched Bows' came into play. They kind of look more like scissors though.. ohhh well! I might even do something different tonight. I am leaving tomorrow morning for the weekend, and maybe something simple will be best. I will have to see how tired I am after the movie!
Hope everyone will have an awesome weekend!! Keep your fingers crossed for my brother.. I want him to make this hockey team!!