By Duffy. Sigh.. The way she sings this song is just so pretty! I know some people say her voice is too annoying to listen to repeatedly, but I really like it..
Gah.. Who blogs at 4:10am? Stupid insomnia.
Sooo.. A girlie that I work with asked me when I was painting my nails again.. And I said within my few days off.. And I asked her what colours I should use.. She picked blue - wanted something with two shades of blue. Done.
I actually found a youtube video for this look.. But I changed it up a bit because I wanted it to be different. BUT! I did - you know what.. Scope the photo of what I used first: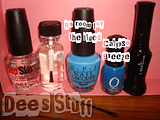 Click To Enlarge
Notice the bobby pin? Yeah..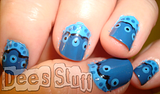 Click To Enlarge
P.S - Sorry I always snap photos before cleanup.. So yucky!!
The dots were made with a bobby pin! How neato is that? I kind of like youtube and all the little tips and tricks I find! I was going to order some of those dotting/marbelizing tools.. But for now this works. I am trying to be good and pay off some stuff before going back to school.. When all I want to do is spend money on nail polish and makeup.. and books! UGH! /endrant
Well.. I spose I should get some shut eye before shopping tomorrow.. err.. today!
Oh.. And just a quick snap of my make up from the evening.. I liked it.. I mean, considering I haven't been doing my make up too often anymore.. But anyways!
Click To Enlarge
Haha, hopefully my mug doesn't scare anyone away!
I ussssed -
Face:
-Physicians Formula Mineral Wear Loose Powder in Creamy Natural (even though it is a smidge too dark)
-B Vain Blush + Highlighter in Wink
-Loreal Extra Volume Collagen Mascara
Eyes:
-UDPP
-MAC Rice Paper
-MAC Embark
-MAC Woodwinked
-Random White Pencil
-MAC Blacktrack Fluidline
Quite the update huh.. I guess maybe I should try to do it more often. OH! And the concert was amazing! Dream fulfilled :D