By Brokencyde. I found this band by a friend telling me to listen to this 'guilty pleasure' song called "Bree, Bree" by this band.. They are obnoxious/rude, crass and strange.. Which is probably why I enjoy their songs on rare occasions. Screaming is a plus.
OK! So, I said I would keep everyone updated on that Dead Sea spa care package.. I have been doing such a bad job of that. I mentioned it on July 20 and it is now August 7 (AYE! Time flies!)..
Anyways, I have been using the system faithfully everytime I have a few days off of work thus giving my nails time to breathe between polish action. I sadly haven't noticed the yellowing disappearing except for when I cut off the growth of my nails, which thankfully grow fast.
I am beginning to wonder if it wasn't nail polish that stained my nails but something else.. It is weird because sometimes I SWEAR the yellowness is gone.. Then a few hours or a day later it is back (probably just lighting.. I like to pretend to believe otherwise though!)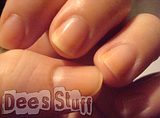 Click To Enlarge
The reason I keep using this stuff though is that the cuticle cream is AH-MA-ZING.. Plus paired with the lotion (which somehow my super sensitive skin accepts, yay!) your hands just feel awesome!! Plus I like the buffing system on the nails, makes them smooth and polish application is just great!
Ok.. Enough blabber eh!