By Jace Everett. I had always considered watching 'True Blood', but never actually started. Then my best friend told me to absolutely watch it. So I started the other night. Almost through the first season. I am in love/obsessed/UGH with this show! AND! I absolutely love the opening credits song.. I hate country music, but there are the few gems like this song and some off of the 'From Dusk Til Dawn' soundtrack that creep me out and make me LOVE them. Woo.. well.. on to the postage..
I used this tutorial by QueenofBlendingMUA for these nails.. Although I changed it up a smidge because I am not a *big* fan of rhinestones.. Scope the vid out
HERE
.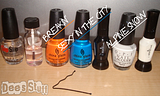 Click To Enlarge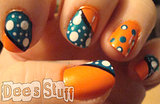 Click To Enlarge
I had been thinking about using Breakin' for awhile.. But couldn't really think of anything to do with orange until October.. Glad I found this. I had wanted to use ORLY Calypso Breeze as the blue, but I use it quite often.. So figured I would give Sexy in the City another try. I actually really love this.
And as always, sorry for my lack of cleaning up.. Always when I finish a look I am super eager to post it up after it dries.
Ok, back to 'True Blood'.. Sigh. Does anyone else watch this show? If so, what do you think about it??