By Scissor Sisters. This is seriously a guilty pleasure song.. I think if I was really down and this song happened to play, I would not be able to NOT smile!
So.. as I have probably mentioned a time or three - youtube is one of my favourite places to find inspiration for nail art. Lately I have done two looks that were more difficult.. And I absolutely hated them!! I didn't even take photos for others to gawk at.. I know.. SO rude of me! I will try them again someday..
Anyways.. I randomly came across a video by
ThoseHappyDays
.. The video is titled
A little part...
and at around the 20 second mark you will see the nails that I recreated.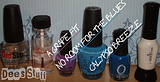 Click To Enlarge
Click To Enlarge
I like them. They are simple to do, and have a nice look to them when they are finished. I was going to use totally different colours.. But I thought back to my last two fail attempts.. And decided to stick close to the colours used. Now I have nice nails for my managing shift tonight! Yay!
OH! And I am up to 20 followers!! WOO!! Thank you all so much for actually taking a glance at what I post - really appreciate it! I think once I get myself in a more.. "comfortable" financial situation, I will have to do a giveaway or something!!!
Have a super Thursday!