By M.I.A.. I really did like this song, but I liked it before it was SUPER popular and used on the Pineapple Express trailer and then used on a bunch of other things. Ahh well!
ANYWAYS! It is good to be back and have an update for all of you! I think I mentioned before about my crazy sleeping and just lethargic behaviour.. I was finally starting to feel normal, then something happened on Tuesday, and I went back into a serious funk. I am tired of being tired. Life sucks, blahblahblah, etc, etc, cry me a river eh?!
Last night (Thursday) as I was happily watching Big Brother.. I was like 'I should do my nails!' and I did. I also have to say.. I haven't snipped my nails in approximately two weeks, and the growth is AWESOME! Annnd.. this is nailage where I actually would say my right hand > my left hand. Scope the photos..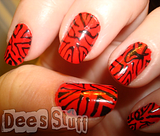 Click To Enlarge
And I made a mistake on the ring finger.. Well, no one *really* notices it until I point it out. Are any of you bad compliment takers as well? Anytime someone compliments me on anything, I will always point out a flaw. I can never just be like 'awe, thanks so much!'.. Well, in real life anyways. Guh.
Click To Enlarge
I really like this hand (my right) better on this design. I have no idea what I was going for.. I just grabbed my black SilkLine and went to town. I figure this is what my mind is seeing lately. Gibberish! Oh.. And I'm wearing Orly Teeny Bikini, which is a gorgeous colour all on its own. Plus I can tell people I am sporting a teeny bikini.. heh.
When I got to work this afternoon, the admin assistant told me my Avon order was in. YAY! I ordered a bent eyeliner brush (I have been oogling these bad boys for a long time now!)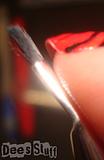 Click To Enlarge
But I didn't want to *just* order the brush.. So I ordered a satin gel liner as well. I own MAC Blacktrack Fluidline, so I decided to go with a brown.. More day time appropriate. The colour name is Brown Pearl. When I first opened it.. I wasn't impressed.. But then I did a swatch at work (didn't snag a photo though).. BUT!
Click To Enlarge
I am not sure if you can pick it up on here.. Or if it just looks greasy.. But it is SPARKLEY! WOO! I love sparkley glittery stuffs. I just bought a Lise Watier Glitter liner in Amethyste (purple).. I also have Smokey Gold.. Anyways.. Love glitterness! I think I need more sparkley glittery polishes.. Well.. Sorry for the super update! I figure I will blog, then go pass out before work again.
Have a super weekend all!!