By Duffy. It is nice.. The beginning reminds me of an olden days girl group/backup singers.. Same with the chorus!
Oh, and side note, this is my 30th post - woo!!
I have been meaning to post about this for a bit.. But now seems like a good time. I bought a different storage unit for my nail polish stuffs. Don't get me wrong, I loved the other one.. But what I didn't like was having the polishes laying on their sides and seeing the mix seperate.. Ew.
So, here is the new unit..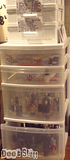 Click To Enlarge
Click To Enlarge
The old unit is still up top.. I cannot get rid of it.. it now houses
some
of my art supplies - ie brushes and pencils.
Annnd on to my fail nails from yesterday..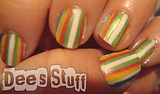 Click To Enlarge.. Actually.. Don't!!
I saw this idea on youtube once and thought I would give it a try.. I don't really like it only because of the colours I chose. I think I will give this one a go around Christmastime.. I think it would work nicely with Christmasy colours!!