By Timbaland featuring Keri Hilson & D.O.E. I used to listen to this song everyday repeat x 5.. Now I still enjoy it, but in very small doses. But D.O.E's part always makes me chuckle!!
SORRY FOR THE ABSENCE!!
I don't really have an excuse other than the fact that I have been feeling tres blah and every look I have done with my nails has just been terribad. Embarrassingly so. I finally did this look and feel a sconch better about myself, haha!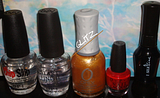 Click To Enlarge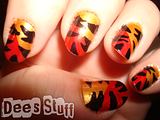 Click To Enlarge
I used a tutorial that
JulieG713
posted
HERE
. I was a smidge disappointed when it was based off of a Rihanna look, but it is still amazing and I just had to copy it! JulieG posts some pretty nice nail looks. I also find that she doesn't try to confuse people when explaining things. (I have seriously watched thousands of YT videos, and some of the nail tutorials could be explained so much easier.. I understand them, but I could see someone trying to learn and just giving up all hope.. When they shouldn't! /endrant).
I think it is time for a new layout here.. I will have to work on that..
ALSO! This is pretty much breaking news.. OCTOBER IS A DAY AWAY! WOO! My favourite!! I love that October is pretty much Halloween themed through the whole month. Time to decorate, pick out pumpkin patterns, decide on a candy theme.. And of course.. nail art! Yay!!
I hope everyone had a good September, sorry I wasn't around too much this month!!