BY QUEEN!!! WOO! I have been on such a Queen kick lately.. (Probably because 'Glee' (which is an amazing show) reminded me of my love and lack of their tunes). I just love this song. And for some reason my nails remind me of the retro colours that were worn during a dance done to this song on SYTYCD. Phew.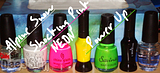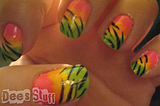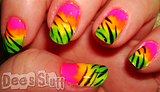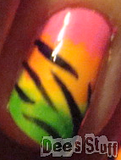 Click To Enlarge
I think picture two is the closest to the correct colouring. Everyone that catches a glimpse of these bad boys stops me to ask where I got them done.. I love peoples reactions when you tell them you do them yourself. Luckily they don't get right in and look at them. These photos and my eyes show me my mistakes.. But whatever.. They are so much fun. My sister and one of her friends wants me to recreate this look on them.
I actually got the idea from BeenaBop on youtube. I am calling them 'Tropical Zebra'.
Also.. I haven't been keeping up with make-up collections, but I saw some photos of the MAC Style Black collection and am seriously drooling over two Mineralize Shadows. I would go and try to see them irl at the MAC counter we have here, but pretty much all the time they never have what I see online. I seriously want these two badly.. But I am much too pale.. Maybe I'll buy one of them (the purpley one) and if it doesn't work out I can paw it off to the mother.. haha.. She has a darker complexion and can pull off dark looks.. Lucky so and so.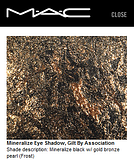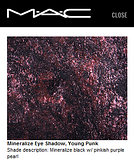 Click To Enlarge
Young Punk has stolen my heart. This is hard because I told myself no ordering anything else until I pay off half of my CC bill.. URGH! Stupid obsessions!!
I hope everyone had a super awesome weekend and gets off to a great start of the week. I am going to go and try to get rid of this rink chill, woo! Hockey season!!