By Platinum Blonde.. Ahh.. Good ol 80s tunes!!
Sorry x 85 that I have disappeared again!! Things got pretty crazy around Thanksgiving.. My favourite uncle was here.. I had to work a bunch.. Spend time with him and family.. THEN! I was scheduled to go to some appointments in another city that is about 2 and a half hours from here (it is called Regina).. My mother was supposed to come with me.. But was called in for her knee surgery on a cancellation.. Which was great, she needs this surgery, but it threw me into some crazy zombie mood.. Luckily the uncle was still here so he was able to take me to Regina because he was going that way anyways.. Phew!
I got home on Friday, which means I should have posted up a look or two.. BUT.. I spent Friday in the mediclinic with my brother.. Thursday night he took a puck to the foot while playing.. Once they were on their break between periods, he took off his skate to check out the damage and there was no way that skate was going back on. His foot was about 6x its normal size.. They took xrays and such.. Thinks there is a crack in the bone.. He is on crutches. So I have 'limpy' and 'crutch' to take care of.. So to make sure they aren't always limping or crutching around, I make them watch movies with me. Heh.
On top of taking care of them, I have also been working since I got home.. So work, watch movies, do laundry, tidy up, etc etc.. My days have been long, but I am happy to help. PHEW! Ok.. photos..
I thought I had a photo of the look before this first one, but I guess I didn't.. Not really missing out on much, but here goes..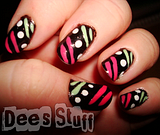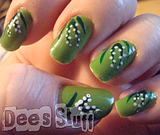 Click To Enlarge
The first one I saw on youtube and went with it.. The second one I have seen an image of. Sorry for the scary dried out hands.. Even my special steroid cream couldn't repair all the damage from washing machine chemicals (the machine is broken at work.. the hose is in a pail.. That was tipping.. Reached in.. OUCH!.. plus it doesn't help that my hand skin is already vulnerable because of exzema.. urgh).. Plus I wrecked my nails a lot at work last night.. Oh well, I will put something new on in the next day of three..
I want to do Halloween nails.. but I still think it is a smidge too early! Soon though!! Hope everyone is having a terrific Tuesday!!