By Blue Foundation. Now, I have mentioned my love of soundtracks before. I might have mentioned my love of books and most likely my love of movies. This song actually is a tri-relationship with all of these things. Yes.. I am a guilty 'Twi-Hard'.. and this happens to be off of the Twilight movie soundtrack. AND! It is my favourite song from the soundtrack. Sigh. OK! Back to reality!!
I decided I better snap a quick photo and post this up before I go to bed because I traded to work in the dishpit tomorrow.. So that means these bad boys will be destroyed.
This is a look that I do quite often. Actually.. After my sister and I started doing designs on our nails this was my go to look when I couldn't think of anything else to do.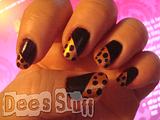 I used Quirius Wicked and Orly Glitz for this look.. Uusually I do it with some brighter colour then half white and black polka dots.. But.. We are into fall now, so why not toss in some autumn-esque colours oui?
Also.. Thank you all for wishing me a good time with my Uncle! He will be here until hopefully Wednesday.. A FULL WEEK! Woo! And.. He bought a video camera for my sibs and I.. Kind of amazing right!? Maybe I will be able to do some tutorials in the very near future!
Anyways, I should probably get some snooze action in. Work comes much too early for me!!
I will leave you with a really great photo of cuteness though..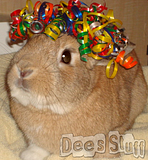 Goodnight :D