By Bobby 'Boris' Pickett. I have to admit, I didn't just randomly get this song. I picked it.. haha! Anytime I think of Halloween, I usually think of this tune as well. If you have never heard it before, youtube it! You're in for a fun treat!!
So.. Halloween-ish title.. Halloween nails oui? Oui!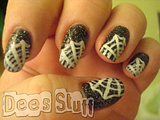 Click To Enlarge
I seriously had so much fun doing this one! Sadly, it only lasted two days while I worked in the dishpit, but oh well! My nails are naked right now.. I am fighting myself mentally to NOT paint my nails!! GUH!! There is no point in painting them until Tuesday night.. But even then I am back to doing dishes on Friday.. We'll see. I do not think I can hold out til Friday night!!
I am also really excited that a new month is just around the corner. I have plans for this lil blog here! Time for a change in layout n such. I have some other fun little things I want to add.. So yeah! Be on the lookout for that. (Of course I would pick the beginning of November to debut new things.. When I'll be working pretty much every day.. Heh. I love to make too much work for myself!!)
I hope everyone had a super Sunday and it ready for a.. marvelous Monday?