By Fall Out Boy. A Christmas themed song because today was like a Christmas morning to me..
My long awaited package from
Quirius
arrived today!! I was suuuuper pumped to get it.. Not just for myself, but that package contains 12 polishes.. 6 for me and 6 for someone else (I cannot say for whom though, just in case!)
First, I have to talk about their packaging.. It is done up really nicely!! They are safely tucked into these little boxes that are wrapped in some serious bubble wrap encaved by packing peanuts. I fell in love with this company just at that point.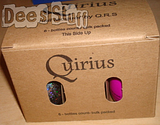 Click To Enlarge
Then I finally got to the part where I was allowed to open the boxes.. Now, it says each box contains 6 polishes, yet I had 3 boxes (I will answer the mysterious box question in a bit (does anyone else chuckle at the word box? oh my immaturity strikes again!)). I checked on box two to make sure it was correct for someone, it was.. Opened my box (heh) and this is what I found..

Jamaican Dream, Lucy Diamond, Purple Passion, Wicked, Ruby Pumps, The Arabian Nights
Now for box three..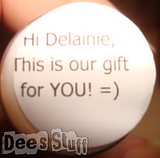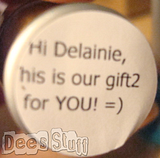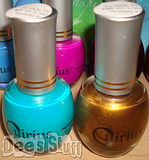 Caribbean Turquoise & Autumn Bronze
GIFTS! I had to show the stickers on top because they spelt my name correctly!! Even when I fill out documents with my name, an 'i' is always missed, or a 'j' is tossed in (true story) so this was tres exciting to me. They can get my name right but the government cannot.. I'm just tossing that out there.
The pictures in flash change the last two colours quite a bit.. Caribbean Turquoise is much darker, and Autumn Bronze looks like a dirty metallic aka not so gold.
I don't know if anyone noticed from tiny glimpses in the photos, but my nails are naked.. So there will be a polish post asap!!
Hope everyone is having a terrific Tuesday, I know I am!!