By Lady Gaga. I LOVE her music, so of course I love this song. Oh, and enjoy it playing.. My one of changes is to CHANGE the music to whatever the title of my post is. If it is super annoying or whatever, just let me know :D
Just a super quick post to post up my other Halloween look and the look I am currently sporting. I sadly had to miss work today. I spent approximately 15 hours with the migraine from hell! My head is still pounding, but at least I can stand light and SOME sounds now.. But I can feel is thinking about rebounding! GRR!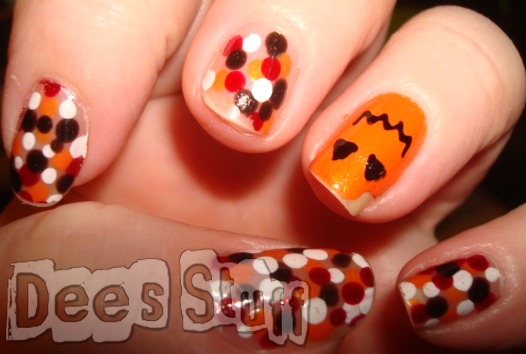 This is the first look.. I know.. Pretty late for Halloween stuffs, I apologize! I nabbed this idea from Naive Nails (I will fix the link when it allows me to view her blog!!).. I absolutely love it! I promise it looked better before.. This was after 3 days of dishwashing, so it did hold up amazingly well!!

I got this idea from an image I came across on another site. I will have to edit it and upload it so everyone can see it! She did such an amazing job on hers.. My bows could be better.. But I love the silver action so much that I had to incorporate it EVERYWHERE!

I promise my next post will be more organized.. Geez.. I think my brain has imploded to be honest.

Anyways, I hope everyone has a super weekend! I am going to be trying to make the rest of my shifts!!